For 2023 my plan is to finally build something.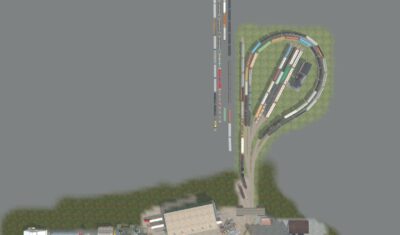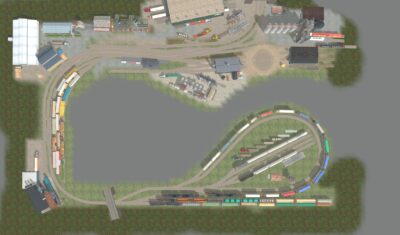 Yes, I agree, that's a bit unfocussd. So let's sharpen the initial picture a bit. The given's and druther's of the railroad are:
The room has multiple uses, as it serves as my home office, my private computer workplace, my hobby workshop with three 3D printers, the train room and as an emergency guest room. The latter causes the most concerns, as it entitles my wife as the acting CSO of the BC Northern Railway (corporate style officer, next to being the acting CFO anyway). Consequentially furtiture an railway intallations need to please the (female) eye.
I want Double headed trains. So appropriate train lengths should be accounted for. I consider 300-400hp per Rail car a good measure for road freights. This way I have to assign a second loco for any train of more than ten cars. This means 50cm for two modern road engines plus 300cm for a 12 car train. A 350cm siding eats up signifikant space.
I want at least 3 full train staging tracks at each end, which can hold trains even if the removable sections of the layout aren't present. These should be mounted in a way that minimizes impacts by unwatchful visitors bumping into the shelf. And they should please the eye.
It would be cool to get engines out of the staging tracks when a train terminates there. Perhaps a manually operated transfer table?
Turntable?
2-3 Industries. Paper mill, supply company, packing company, team track.
One short VIA Rail Passenger train (F40PH plus 2-3 cars), this requires a cassette in each staging yard to lift out and turn the cassette (to turn the train), as I have no space for a return loop yet.
A return loop? That would be awesome. I'll plan for a removable or two removable Turntable segments. This way the base-Layout will be only a switching layout, while the whole thing – with all segments and modules in place – will be the complete railroad. The beautiful part of such a concept would be twofold: for one I could build everything in small increments. And for the other, changing the plan wouldn't mean to tear everything down, but only to rebuild segments that wouldn't fit anymore. I'd like that.
Less track, more operation. The latter being more important.
Obviously, I would have to start somewhere. And as everything in Model Railroading costs money, I shouldn't be afraid to scrap the first module after it had it's use. I would hate to continue waiting for the "Someday Central" , as Tony Koester mused about in his Trains of Thought column of the April 23 Model Railroader issue.
Testing the plan using TANE
Trainz – A New Era is a PC railroad simulator that supports virtual model railroad Layouts to a certain degree. I usually don't bother to build the actual train room, table, benchwork and fascia and usually Focus in the trackwork.
The following Images Show the Layouts various locations including the future return staging loops. Im starting in the south, which represents Kitwanga and the Canadian National interchange.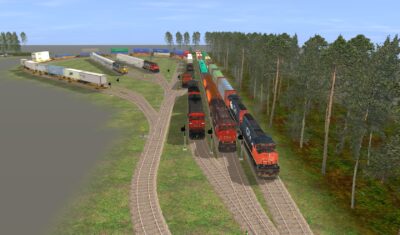 To do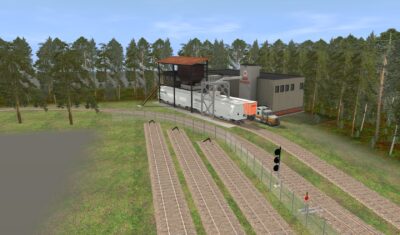 To do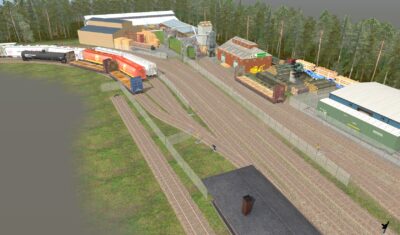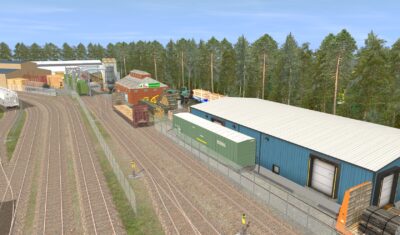 To do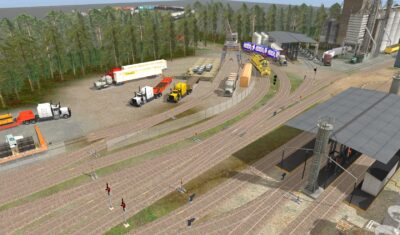 To do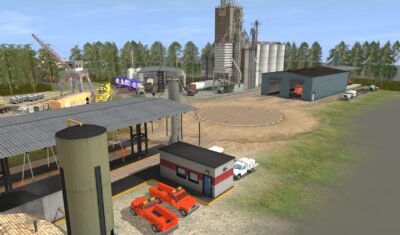 To do
To do