As already mentioned elsewhere on this site, I have decided to includ Passenger Service to my BC Northern Railway. In this particular case I plan to recreate "The Skeena" or the Jasper – Prince Rupert Train, as it is contemporarily known.
Recently I aquired two stainless steel passenger cars (a roomette sleeper and a Coach) and an EMD F40PH, as Well as a Dome Sleeper car for the recreation of that train (they are called Skyline Dome Cars at VIA, I think). But what's missing is an Observation Dome/Sleeper Car or more commonly known a Park Car, as all are named after Canadian national parks.
I've decided to model a car based on the "Glacier Park", as there are plenty of photos and videos available that show the car in detail.
Today my 3D model (Made in Blender) reached a devellopment status, that is somewhat presentable, so here it is.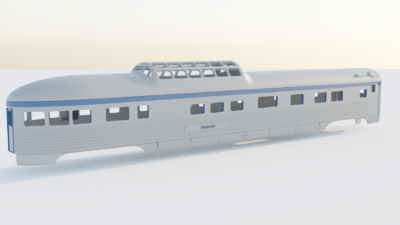 The first printed iteration showed the usual discrepancies, like holes and thin walls in the resulting STL, but the second print was already very close and gave me alot of good points to work on for the next iteration. I will be using silver silk PLA for the next prints, as that would be close to the desired stainless stell look of the resulting carbody.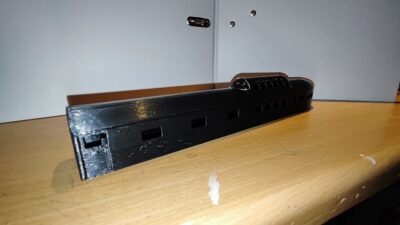 First change to make: The name Plate is to be separately printed and there is an open or reverse face near one of the dome windows. Also the Chassis will be printed tonight or tomorrow.