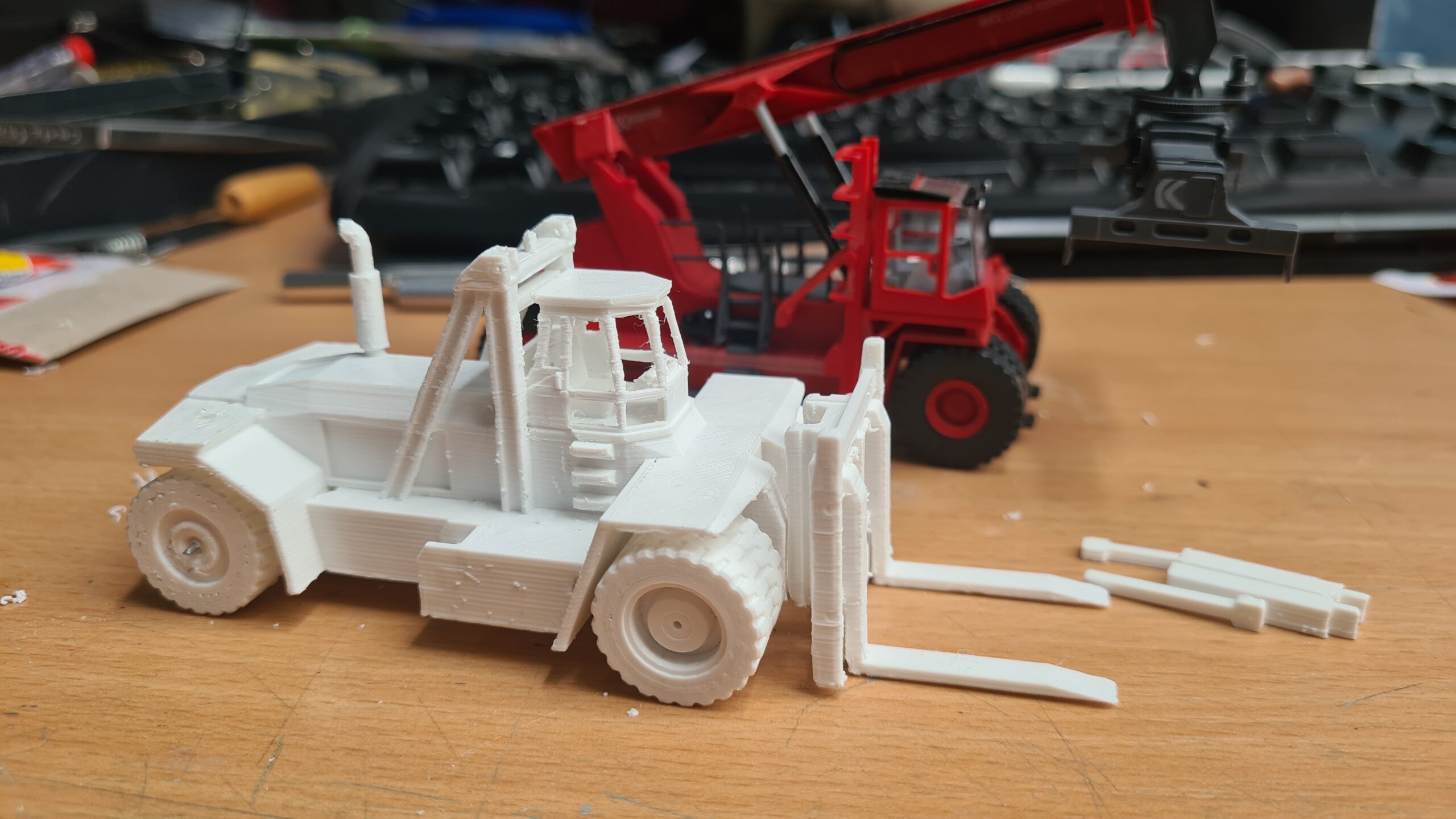 Today I'm building a Heavy Duty Forklift or Heavy Lift Truck like those Alaska Marine Lines uses to load and unload their Container Barges. These Heavy Duty Forklift Trucks are produced by various Manufacturers and I have taken inspiration from Kalmar, Hyster and Svetruck for this model, though it doesnt follow any prototype.
A commercial model of a Heavy Duty Forklift can be obtained in HO-Scale from Kibri or Walthers (which is the same model).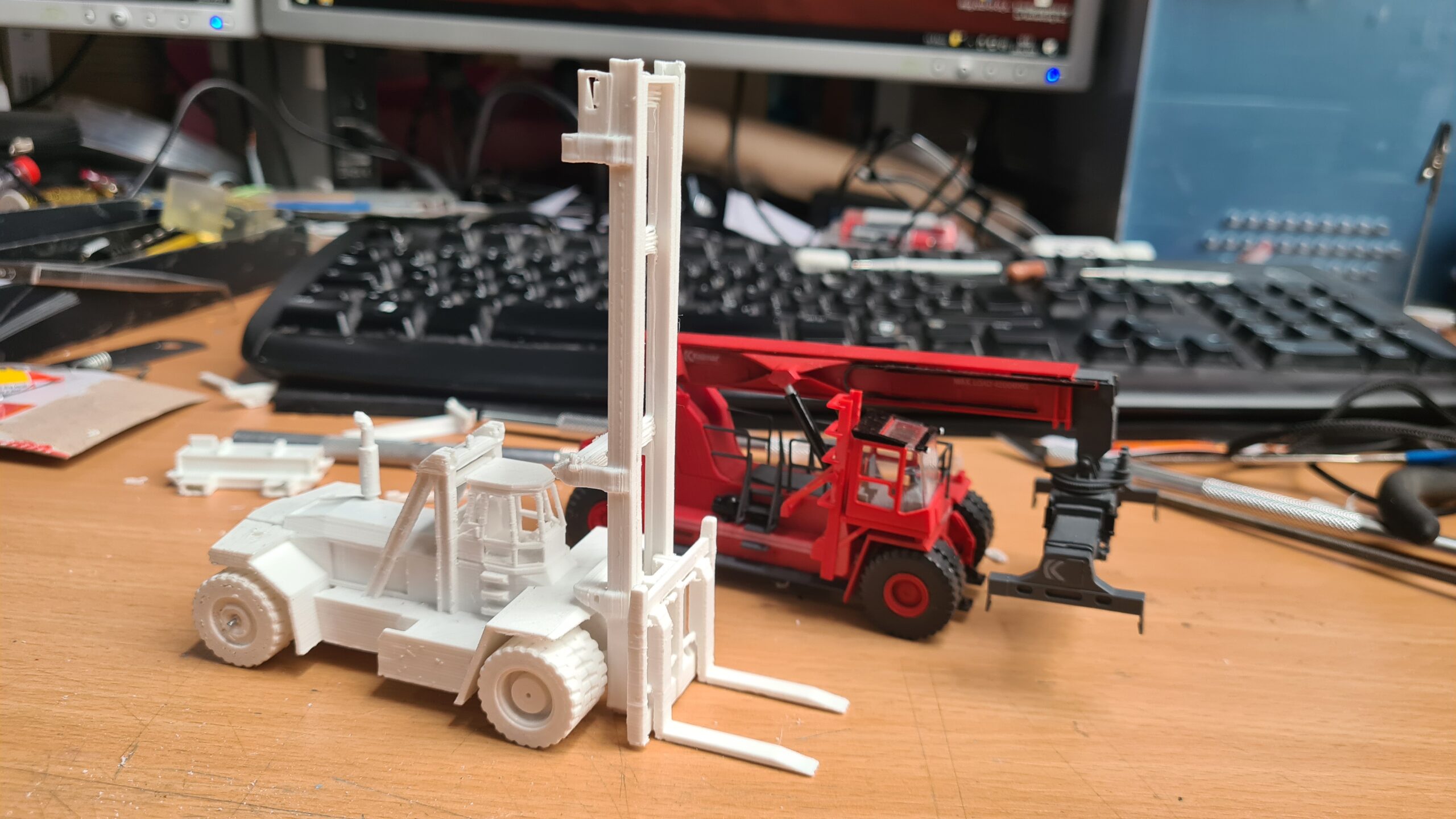 The current model is only a display model. Though the fork and upper mast can be raised and the wheels turn freely, it is not intended to be functional per-sé. Here it can be seen with a Kalmar Reach Stacker (Kibri model) for comparison.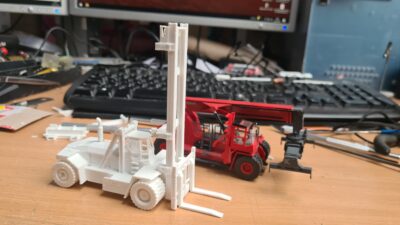 When looking more closely and when comparing the current Iteration with the Walthers Kalmar Container Forklift kit, it becomes clear that it is at a scale of 1:72 and needs to be scaled down a fair bit to about ~80% its current size. Of course I will take measurements first.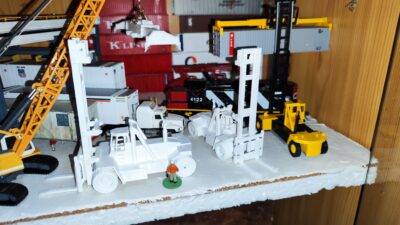 With my increasing interest in RC Micro Scale Modeling, this model is actually the testbed for an HO-Scale RC Lift Truck. More info to come. Promise.
With only a few Details missing, I should make up my mind regarding the colour scheme and "Road Name". Current CN container stackers are white with a red logo. Some MOW Equipment is red with a whit logo. BCN uses yellow and blue with either white, black or blue logo depending on the colour the logo is applied to. This will later also be the colour of my reach stacker and Mi Jack crane.
So what comes next? This is a good question, for sure. I have literally no experience in micro modeling or miniature RC control systems, but there are quite a few resources to draw inspiration from. I also need to invest in some tools, as I will likely have to manufacture sturdy miniature chassis or mechanical components like the telescoping fork lift mast from scratch.
I am not sure if a metal etching station should be on my go-to list of new toolsets, but it would offer tremendous additional benefit for my other modeling too. It all depends on the volume of items to make. For just a few "prove of concept" models a commercial production service would be much more convenient and probably more cost effective. But, with metal etching viewed as an addition to the hobby, cost effectiveness isn't the primary concern. I've seen the wonderful detail metal etched components can add to a model when I received the KASLO kits a few month back and I must say: "I want that."
For the time being, I will utilize a commercial service to make those parts. The service of Ätztechnik Herbert Caspers GmbH & Co. KG looks promising in this regard. There is a guidebook online which describes the process of making prototype drawings for photoetching to utilize their service. So that will be one part of the project. A lot of the remaining info will be gathered on the Mikromodellbau-Forum.
Of course I've also obtained the Walthers Version of the Forklift Truck.