Das nächste Projektupdate steht ins Haus. Für unsere alten LifeLike Proto2000 GP18 benötigen wir Treibstofftanks um diese umzurüsten zu GP9rm Loks der Canadian National Railway. Gestern bereits haben wir ein Modell für die Herstellung mit den detaillierten Frosted Detail Plastic Material von Shapeways in Auftrag gegeben und heute folgte ein etwas groberes Modell für die Herstellung im Strong & Flexible Material des 3D-Druck Herstellers. Hier ein paar Rendergrafiken des letzten Modells.
Gedruckt auf einem Anet A6 3D-Drucker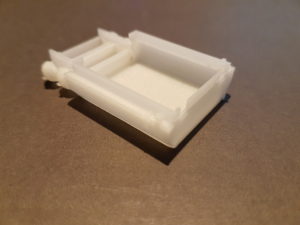 Dazu passend gibt es die GP9rm Führerhäuser bei Shapeways. Dabei haben wir zwei Varianten erstellt. Die eine ist ebenfalls für die LifeLike Proto2000 GP18 konstruiert worden und die zweite stellte ein standalone Modell dar das sich theoretisch auf jedem Chassis einsetzen läßt. Es weist zudem sehr viel mehr Details auf.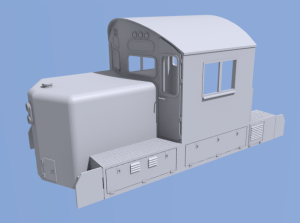 Und zum Abschluß folgen noch ein paar Fotos der fertigen Modelle:
Ans Modell angepasst fällt gleich einiges Optimierungspotenzial auf 😉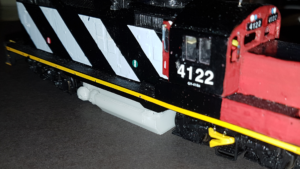 Hast Du einen 3D Drucker? Du kannst das Modell von der BCNorthernRail Thingyverse Seite laden.
Have a 3D printer? You can try this thing by downloading it from the BCNorthernRail Thingyverse page.