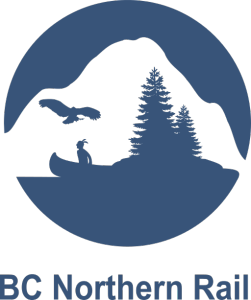 Die BC Northern bekommt ein Logo. Entscheidung des Managements. Dieses soll die Farben der Gesellschaft (Blau und Silbergrau) wiedergeben und Elemente der Region aufzeigen (Berge, Wälder bzw. Nadelholz und ggf. Tiere (Adler, Bären, Elche, Karibus) oder Bevölkerungsgruppen (First Nations) portraitieren. Darüber hinaus soll es modern sein und sowohl in den Garben der Gesellschaft als auch in Schwarzweiss gut aussehen.
Das oben gezeigte und hier noch einmal ohne Text aufgeführte Logo erfüllt die geannten Kriterien. Es zeigt die Silhouette eines der zahlreichen unbenannten Gipfel der Coast Mountains im Hintergrund, der auch vom Glacier Highway (37A) aus sichtbar ist, wenn man von Meziadin Junction Richtung Stewart fährt. Davor symbolisieren Fichten (pine trees) die ausgedehnten Wälder, ein fliegender Adler die Fauna und die Silhouette eines stilisierten Mitglieds der First Nation in einem Kanadier (canadian canoe) die idigenen Einwohner dieser Region British Columbias.
English logo description: The logo shown is supposed to depict various elements that could be considered typical for the region this freelanced model railroad serves. It shows one of the many unnamed peaks of the British Columbia coast mountains – visible from the Glacier Highway (37A) driving a few kilometers from Meziadin Jct. towards Stewart – in the background. In front of that the silhouettes of pine trees symbolising the vast forests, a flying eagle symbolizing the wildlife and a stylized member of the first nations in a canoe symbolizing the indigenous peoples of the region.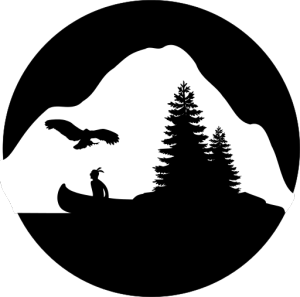 Eine Variante mit Reverse Shield Rahmen bildet hier eine Alternative.
In den Farben der BC Northern Rail würde das Logo dann wie folgt aussehen. Das gleiche Logo in inverser Farbgebung ist z.B. oben im Header-Bild zu sehen und macht ebenfalls eine gute Firgur.
Wir werden das Logo ebenfall für unseren Shapeways Projektshop nutzen.
Hier ist auch eine Variante mit Reverse-Shield Rahmen angedacht.