< Zurück zu Workshop – Weitere Wagonmodelle
Hier stelle ich einen Wagon für den Transport von Holzschnitzeln nach CN-Vorbild vor. In noramerika wird der Offene Hochbordwagen als Gondola bezeichnet.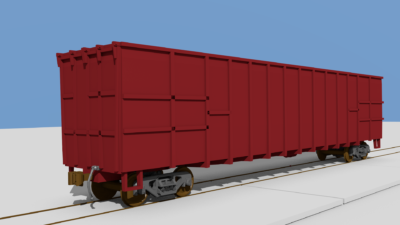 Wie man unschwer erkennen kann, wurde die Textur nur auf den Seitenflächen aufgebracht. Da hier ein 3D-Druck im Maßstab 1:160 geplant ist, habe ich auf die meisten Details verzichtet. Leitungen und Handläufe werden später mit Messingdraht ergänzt.
Da heißt es wohl "Hausaufgaben machen". Matterhackers haben einen ordentlichen Artikel zum ABS-Druck verfasst: How to succeed when printing with ABS. Und wenn man den ließt dann stößt man immer wieder auf die Dreifaltigkeit des 3D-Drucks:
Sauber ausgerichtetes (ebenes) Druckbett.
Korrekter Abstand der Extruder-Düse (Nozzle) zum Druckbett.
Die Güte der ersten Schicht bestimmt die Güte des Drucks.
Daneben kommen natürlich noch die Materialeigensschaften zum tragen. Und eine vernünftige Temperaturkontrolle. Aber wenn einer der drei Punkte oben nicht stimmt, braucht man sich um den Rest gar nicht erst zu kümmern.